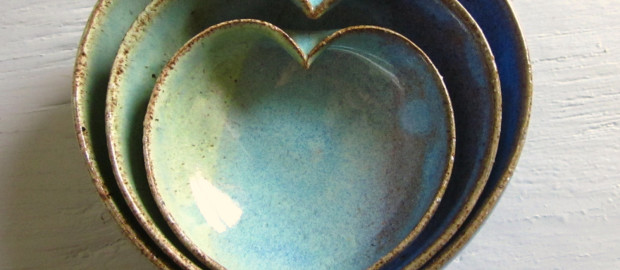 "Only the gentle are ever really strong." ~ James Dean

And then, this random thought: the deeper the wound, the thicker the skin. The thicker the skin, the harder the surface. The harder the surface, the tougher it is. We protect ourselves to the point of hurting ourselves, because when we harden too much, the light within us is trapped…if only we can allow ourselves to break open, heal, and His light will shine.
In Japanese culture, there is a form of art called "Kintsugi". Basically when pottery is cracked, it is filled with golden lacquer (sometimes a mix of metals – gold, silver, even platinum) so they don't conceal the cracks but rather highlight them for all to see. The cracks are considered beautiful, and part of the pottery's story so to speak.
I think about Kintsugi a lot, both in every day things and figuratively. As a woman, I sometimes wear makeup. It's funny because when I notice a new line or imperfection, my first instinct is to conceal it. But who am I fooling really? The line is still visible with concealer in it or not, only slightly less noticeable. Sometimes I think wouldn't it be cool to turn imperfections into marks of beauty, coloring a pimple with gold pencil, filling a line with a silver streak. I think better as to not embarrass my children, but really isn't all that part of my story? I've aged, and have learned so much with every passing day. I didn't sleep well, thinking of a beloved friend in need, hence the bags under my eyes. I ate too much chocolate yesterday, which I savored and enjoyed thoroughly by the way, hello pimple.
And figuratively, we conceal hurts with hardened skin, that looks just like our skin, and it takes work for humanity to dig through the scar tissue to see that's not really the person inside. If we filled our scars with gold, silver, better yet, just cleaned them out and let the cracks show, the space for His light to shine would be opened up, and the beauty would just be there for all to see freely. We are not as hard, we may feel hurt at times, but we are real, and love flows freely in and out.
I've been told by many people, that I'm too soft. I don't take a strong stance on anything. I see from too many sides. It's true – I do. Not always. I used to fight against about anything I felt strongly about at the moment. But life proved to me time and time again, that if I only knew the other side of the coin, my fight would turn to understanding, compassion…and often life showed me the other side, and I realized I needed to use my energy for lifting up what I believed in instead of fighting everything I didn't. And so, I like this James Dean quote because there is strength in gentleness, and its power can move mountains praise be to God.
When Jesus washed the feet of His disciples, it seemed like a curious move. Here He is, son of God, worshipped by many, feeding thousands with a loaf and some fish, healing the blind ~ and He is washing the feet, serving humanity in a way that we can not fully understand. His gentleness was His power. His listening ear, compassionate heart to eat with sinners and love all was His strength. And even, when on the cross, He asked His Father to "forgive them, as they know not what they do." He didn't hold wounds and blame the scars for His being crucified. He loved even as He took His final breath of His earthly life.
#loveoneanother #ifweonlyknew