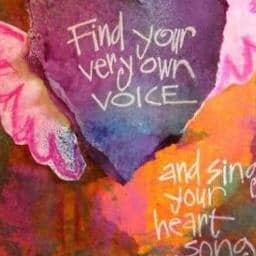 I had a conversation the other day with an old client. She said she needed "a reboot" session. When I asked why, she called herself lazy. She said she hasn't put any energy into reaching her goals or using her gifts.
Well, hello? Pandemic happening! We all deserve some grace. While some people are emerging and creating stuff like crazy others are cocooning. Both are necessary periods in our lives and should never be met with judgement.
I've known this incredible woman for years, and I never once considered her lazy.
Curious, I asked why she thought that. It took a little more digging for her to finally uncover where that limiting belief came from.
See how that happens? We bury stuff so deep, but it somehow bubbles to the surface of our lives still. Better to excavate the crap out!
Anyhow, turns out her ex did a little number on her by calling her that word a lot.
When she was tired after a long day of work, and wanted to veg out instead of cooking a gourmet dinner, she was lazy.
When she sat on her deck on a Sunday morning basking in the sun for a few moments instead of doing laundry straight away, she was lazy.
When she gave her kids lunch money instead of packing it for them, how lazy could she be?
Little Miss Lazy lived everyday hearing that sentiment in some way shape or form during their entire relationship.
But that relationship ended years ago. Why was this brilliant woman calling herself lazy and believing she was still, in fact, lazy?
Cher said it best, "words are like weapons, they wound you sometimes."
And so we went deeper. He had a father that was an alcoholic. Anything he felt about himself he labeled his kids. The ex was "good for nothing and lazy" according to his father, wounded by his own wounds and the wounds of those before him, and now he is infecting others with them still.
My heart breaks as we sometimes all do this, we cycle out our own stuff onto others, and then they continue the pattern. It's like a house of mirrors really. But the reflection can do so much harm. Now spreading its "disease" into others in all kinds of ways. Somehow we have to acknowledge where our beliefs began to infect our lives, and heal from the roots to stop it's spread.
By labeling ourselves, we don't see the beauty of what is, or the purpose of it. And we may never pass through it if we "live our label". Cocooning happens, but calling yourself lazy instead of honoring this important state may keep you stuck feeling awful about yourself and you may never pass through the stage, holding yourself down by the tongue, so to speak.
Here's the thing. Most labels we place on ourselves (and others) come with baggage. Not only the labels like "lazy", but the labels that are good, too. Even those labels can create a pressure cooker. You know what I mean? If you're "so smart" you can have such a high standard for yourself (and others), it can create rifts in relationships and do massive damage (on ourselves and others) when one doesn't live up to the label.
You see, it doesn't matter if they are "positive" or "negative" labels – the stress of always trying to live up to a positive label is exhausting, and the weight of a negative label can hold us back from living to our fullest potential.
The labels we assign ourselves (and others) transform the lens in which we view every experience, situation, and person we meet.
Look for lessons in the labels you are using on yourself or others have used on you. Look for the label's roots to understand its origin story. Once you extract the teaching moment, release the stress and weight of the label. You can write the label down and burn it with sage; speak the label aloud and lovingly say goodbye; you can trace its roots and write a letter to the past dumping all the muck of our minds out, so it holds no space in your brain, and no longer holds shackles around your heart.
In everything, there is an opportunity for growth.
Now use the power of who you are at the core, that allows for many layers and greatness. Give the power a name that will still hold you (and others) up in your highest regard when you (or others) experience challenges or moments of weakness – we are human beings and we need each other.
The name I have for myself and others is "Magnificently Made". This name puts no pressure on me (or others) to be anything but who I am (or who he/she is). It feels right in my soul. I forget sometimes, of course, I'm human, and have struggled with this, too. But the awareness of the power of our words can help, and surrounding myself with people who remind me who I am when I forget helps a ton!!
You have a name that feels right in your soul, I'm certain. Write what pops up for you and speak it out loud. Does it feel nurturing? Does it give you grace? If not, that's ok! Some "ick words" might need to come out of you first, and that's perfectly perfect. Continue to do this exercise until the word that holds the truth of your being emerges.
Once you have spoken life into this new name that allows you to shine your light (rather than extinguishing your inner flame), CLAIM IT!! The name you claim should represent your deepest core belief of who you are.
That's right! Speak it out loud, write it down, take action, stand in the truth of it, and be the magnificent person you were born to be.
The actions you take will reinforce this new belief, changing your thought patterns, creating new pathways in your brain while shutting down the old pathways, and ultimately rewiring your brain.
Ahh the beauty of neuroplasticity!
The rewiring shuts down the old road to nowhere that your limiting beliefs had you headed down!! Amazing! Now, with a new belief system, you create a whole new language of words that speak life into your purpose here.
I know there's a lot more to this, and of course I could go on and on, but for now, please be gentle with your awesome self. Be mindful of your words, and release those labels that no longer serve you. Shine bright my friend, because there's no doubt in my mind that your light will be exactly the light that someone in this beautiful world needs.
You got this.