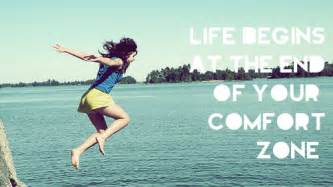 "Life begins at the end of your comfort zone." ~ Neale Donald Walsch
Inspired Girl welcomes guest contributor and all-around inspirista, Casey Fillian. Casey is the kind of woman who inspires you just with her presence. Her loving heart, high energy spirit, and incredible belief in humanity's potential shines through in everything she writes. Read her thoughts on moving beyond being comfortable:
As I've gotten older (and some would like to think wiser) with each passing year, I've come to learn that life can sometimes place us in some extremely precarious situations, usually involving the "biggies" – birth, death, family, friends, children, money, and even our health.
Yep, I believe we all have been through something completely uncomfortable. But I also believe some serious character building is often in the works during these life lessons…some might say that our strength and even our faith will be tested during these pivotal times. And that's ok…it really is…
Because THIS is where we get comfortable being uncomfortable. THIS is where we learn about resilience over defeat and triumph over adversity. THIS is where we figure out that we can indeed get through anything in our path and come out even better at the end.
Because ultimately it all comes down to one thing and one thing only…that life how we know it and live it is unpredictable at best.
But human beings are awesome. We owe it to ourselves to believe in our ability to figure things out…to believe in the power to cope and triumphantly persevere. We owe that to ourselves and to every single person around us…
So, the next time you find yourself in muddied waters, remember that THIS is your designated time for growth, change, and enlightenment. THIS is your chance to dig deep and figure stuff out…tough stuff…big stuff…life stuff. THIS is the time to reflect on what got you here and why. THIS is an opportunity to handle adversity and change with dignity and grace.
After all, life is what you make it and what you cultivate from your experiences.
So embrace that feeling of fear or doubt and handle what comes your way…you can and you WILL prevail.
I have a two word mantra that gives me strength – they are two small words that keep me sane, and pack a huge punch when it comes to getting comfortable with being uncomfortable…just remember "bring it"!!
Casey Fillian is a wife, mom, and fitness enthusiast with a love for animals. She loves chasing her passion of helping others through fitness, and is the owner of Ultimate Cycle and TRX Fitness at Ultimate Fitness Training Center in Ocean, NJ. She is a Jersey Girl at heart who married her best friend from childhood. Casey enjoys family, friends and finding ways to give back.