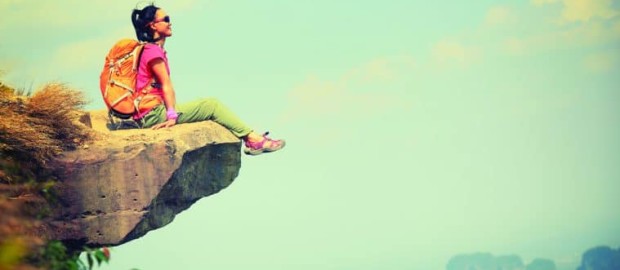 So a couple days ago I was talking to a friend. She mentioned that she held a dream in her heart, but it's not a good time to pursue it, because of ya know, the pandemic.
I paused.
Hmm. I thought about this for a moment. And I told her what I believe in my deepest heart of hearts with every fiber of my being, "You wouldn't dream it if someone didn't need it. Maybe the timing is actually perfect?"
She laughed and went on to tell me I was good at taking leaps of faith.
Ha! Now I had to laugh at that one!! I am a big scaredy cat and can't even climb a ladder, let alone a whole leap! I've talked and written about this before, because fear has been a big part of my life since I was a little girl. I was terrified of a path near my house, wrote a poem about it in 5th grade and concluded at age 10 that what was blocking me from walking down the path was nothin' but fear!!
I've learned over the years though that our deepest fears usually hold the wisdom, they are a key into our greatest treasures. The things we are terrified to pursue are usually a portal into our greatest gifts, our divine appointments, and a gateway to serving others.
I find that if I (or any of my clients) spend too much time thinking about taking an action, we get stuck in the muck of our minds. Alternatively, as Nike so brilliantly said, "just do it!". I totally and completely believe that 30 seconds of insane courage can change your life and heal the world.
That's why I tend to move swiftly into action. Now, that is not without its downside! Of course, mistakes and missteps will be made!! But it creates momentum that you can never attain if one is frozen in fear or jammed up in their head. That momentum allows us to course correct while in motion, as opposed to never revving up our engines. It starts the necessary fire, so to speak!!
Now, I get it. I wrote about this very subject in my book, Balance is Bunk. Jumping off anything is scary for most people. Can you imagine going to the edge of a cliff, with no safety gear at all, and just jumping off of it?! Of course not, or at least, I hope not!! Walking down the street is not nearly as frightening.
I've spoken to so many people about their hopes and dreams, but fear keeps them at status quo. I get it – like my friend said to me, they consider pursuing a dream similar to being at the edge of cliff, and taking a "leap" off can be daunting.
Once I heard Pastor Joe Gratzel talking about this, and his words went straight to my heart and stayed there for whenever I feel my own fears. He said, "It's not really a "leap of faith" if you have faith. It's actually just a walk in faith."
So, today, when fear begins to hold you back from your pure potential {in any aspect of your being}, just visualize yourself walking down the street in faith. And, if your heart feels like leaping, just because leaping can be exhilarating, remember your faith is the safety gear and you are not alone