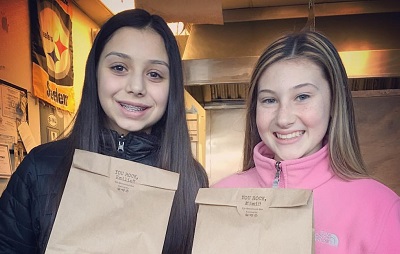 It was a simple picture of 2 young girls holding a poster board that caught my attention: "Together we raised $750 for St. Jude's Children Research Hospital *In Memory of Mya Lin Terry and Logan Parker. N.E.G.U!!!" My heart swelled and my eyes welled with tears. N.E.G.U is an acronym for "Never Ever Give Up" created for pediatric cancer warriors. We've had more than our fair share of children being diagnosed with cancer in our community, and the 2 warriors mentioned on the poster are 2 angels that left this earth far too soon, in my calculation.
Children in our community rally around their friends battling this horrible disease, celebrate their victories, and sadly mourn when they "earn their wings". I don't remember this when I was a child. I don't even think I understood the magnitude of cancer until I was a young adult, and even then, really hearing about it didn't become a daily part of my life until years later. To think of the families walking with this, and to think of our children dedicating their time, their resources, their funds to help, both inspires me and cracks my heart wide open – I lift them all up in prayer and love.
So, when I saw this poster board, and learned that Mimi and Emilie raised money by asking for donations in lieu of birthday gifts, I absolutely had to meet these young "inspiristas" and share their story.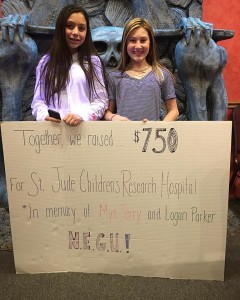 Mimi and Emilie are sixth graders at the Township of Ocean Intermediate School. They are best friends, and they've been celebrating their birthdays together for 3 years, as they are only a few days apart! But, last year, the list of kids they wanted to invite grew, and their moms suggested the idea of "A Party With a Purpose". Mimi's mom Casey read about this party idea online, and as an advocate for helping others and an avid fundraiser herself, she thought this was an awesome idea! Emilie's mom, Jen, agreed. She also has a huge heart for helping others, and was raised by parents who did the same. So, they brought it up to the girls.
Now, many ten-going-on-eleven year olds might have said, "No way! I want gifts for my birthday!" but these two girls jumped right in, and planned an animal themed birthday party centered around their giving – which was to the Humane Society. Casey explained that the Humane Society lacks funds, and so everything given is much needed and so appreciated!! "I love animals," said Mimi. Emilie does as well, and so the party planning began! The girls explained that they picked this theme and where to donate because it was something they both loved.
When I asked Mimi how she and her BFF were able to jump on board with their moms' idea so readily, her response was simply, "We thought they needed it more than us." Wow. It was hard to hold back tears while I met with them.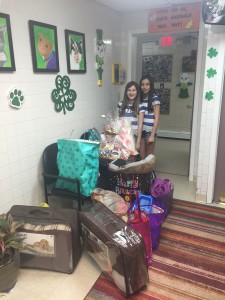 They had their first "Party With a Purpose", and both girls (and their families) were overwhelmed by the response – they had truckloads of blankets, gift cards, pet food, and supplies to bring to the Humane Society off Shafto Road in Tinton Falls. The giving did not go unnoticed – the girls were honored with a plaque, and the Humane Society featured them in a newsletter! Friends were also inspired by their generosity. And so almost immediately after their eleventh birthday, they started planning who they were going to donate to for their twelfth birthday!!
And a Tradition is Born
This year, as I mentioned, they chose St. Jude Children's Research Hospital. Emilie lived next door to Mya, and although Emilie was a few years younger than Mya, they played together as neighborhood children do. Emilie remembers being in second grade, visiting her friend in the hospital, and recalls it to me with tears in her eyes, "I was in second grade. I remember there were balloons in the room…Mya would have done a party like this. She would have given to others."
Mimi's brother Madden was in class with Logan. Madden and Logan would play video games together through the computer, since Logan had to be indoors not exposed to germs during and after treatments. Mimi knew both children, and others who have fought the disease, as well as a seventh grader in town recently diagnosed with brain cancer. St. Jude's felt like the absolute right place to give, as it was something very meaningful to both girls.
This year, it was Monster Mini Golf with a "gold and green" theme – gold for pediatric cancer, and "Green for golf!" Mimi explained the color scheme, and how they incorporated gold details, even gold coins in the goody bags. The poster board was prominent so the kids who came to the party could see the impact they had – at the beginning of the party, the poster board had a blank space next to the dollar amount. The parents counted the donations during the party, so at the end they could share with their friends how much money they raises – nobody expected it to be $750!! And that number has climbed even still, as people even after who were inspired by the girls are still sending checks to add – so as of Friday March 10th, they raised $900!! "It's better than gifts," Emilie explains. "It's helping children with cancer."
And although the invite said donations in lieu of gifts, their friends couldn't help but bring something for Mimi and Emilie as well. Emilie said, "Our friends still kept asking us what we wanted for our birthdays." Mimi continues, (because they pick up each other's sentences as best friends do) "We told them the donations, but they still wanted to give us gifts, too!"
How to Plan Your Own Party With a Purpose
So, how hard is it to plan "A Party with a Purpose"? Not hard at all! And it doesn't matter your age, we can ALL do something like this to give gifts to others on our birthday!! Here are the 4 Simple Steps Casey and Jen took to help the girls plan their parties:
1. Pick a Charity of Choice – make sure it is something that the birthday boy/girl is passionate about, something personal to them, something close to their heart. If they aren't sure yet, maybe this isn't the year to do it full-on. You can incorporate giving into the party by making a craft to donate to a shelter for animals (homemade dog treats, bandanas, etc.), or making "Coloring Kits" to bring to the hospital for children, and so on. You can also just begin exposing your child to more charities, bring him / her to a soup kitchen to serve people, bring him / her to a local shelter to volunteer time. Help guide your child to open their hearts to different ideas for "A Party with a Purpose".
2. Inform Your Guests of the Giving – just put a note on the invitation that in lieu of gifts, this year please donate to X. It doesn't have to be money donations, it can be supplies or other necessary items for whatever charity you choose. Most non-profits have "wish lists" available on their websites or you can find out just by calling them! You don't need prior permissions to hold a fundraiser birthday, but you can let the charity know so they can be part of the process!
3. Incorporate the Giving into the Theme – this makes it fun and meaningful for guests, so they really feel a part of the giving aspect of the birthday, and it still allows for birthday-fun with whatever theme you choose! Also have a visual, such as a poster board, or a picture of the guests around all their donations, you get the drift!
4. Present the Charity with Gifts – if you're mailing a letter with donations, include personal details, pictures, and show the charity how much they mean to the birthday boy/girl and guests. If you're dropping off, bring the birthday boy/girl to the charity location so he/she can take part in it!!
The girls are already tossing around ideas for charities to give to next year. It's now become their tradition, and they love it. Both moms beamed when talking about the girls' generosity, "We're just so proud of them for being so unselfish," Jen said. Casey continues, "It's what life is all about. Helping each other." That it is, Casey!!
How will you use your birthday to give to others?